Visit
Conference Topics
The conference covers high-level content of swine production, disease surveillance and control, the latest in research and development, and international perspectives of the swine industry. The event will provide interactive learning with a forum for discussion and case study with professional leaders.
Exhibition Center
Wuhan International Expo Center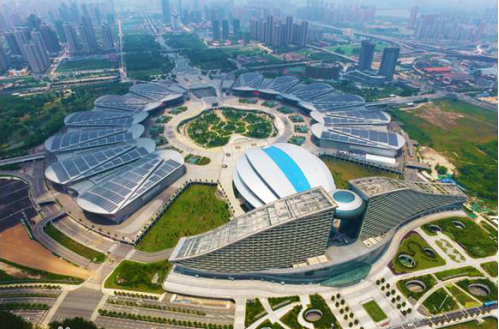 Wuhan International Expo Center is a multi-functional composite International Expo City with exhibition economy and tourism economy as the leading role, exhibition and display as the leading functions, assembly exhibition, science and technology, culture, business, leisure, tourism and residence. The project covers an area of 6253 mu, with a total investment of 50 billion yuan, including phase I exhibition hall, phase II International Conference Center, InterContinental Hotel, Ocean Park, Holiday Hotel, and super high-rise office building, commercial real estate development, landscape water system, ecological residential area, etc. it is currently the largest, most functional and highest specification comprehensive exhibition center in Central China.
The exhibition hall of Wuhan International Expo Center can provide 150000 square meters of indoor exhibition area and 40000 square meters of outdoor exhibition area. The exhibition scale ranks the third in China and the first in Central China. This modern exhibition hall is taken over by the management team of Chengdu Century City New International Convention and Exhibition Center, providing professional, standardized and humanized exhibition services. In 2013, the international conference center with a building area of 100000 square meters will be put into operation. There are 74 conference and reception halls in the conference center, of which 6000 square meters of large banquet hall can accommodate more than 4000 people, which can meet the requirements of holding large-scale conferences and banquets at the same time. In addition, phase II projects, including a five-star intercontinental hotel with about 490 rooms, an ocean theme park and a four-star holiday hotel with about 640 rooms, will be completed in 2014. At that time, the perfect supporting facilities will form a linkage development with the exhibition hall. Through 3-5 years, Wuhan International Expo Center will build China's first-class Expo City and become the first choice for exhibitions, conferences and activities in Central China.
In the exhibition area, the total area of the exhibition hall is 443000 square meters, including 185000 square meters of exhibition hall and 258000 square meters of overhead parking lot. The exhibition hall of the Expo Center is composed of 12 single exhibition halls, each of which is 9432 square meters, with a clear height of 17 meters. The exhibition hall is designed without columns. Sliding sliding sliding doors can be used to separate or connect the exhibition hall and the exhibition hall to form a large hall, with a maximum of 70000 square meters of complete column free space. The 28000 square meter central square serves as an outdoor square for the public to relax.
Built super five star hotel
The hotel area is set along the Yangtze River, including a five-star hotel and a super five-star hotel, with a height of more than 80 meters and a total construction area of 200000 square meters. There are 1200 rooms.
The square tens of thousands of square meters in front of the hotel is connected with the river embankment, as a large-scale river view public square. In addition. There are also two hotel style office buildings with a total construction area of 110000 square meters.
6000 square meters of International Conference Hall
The conference center is located in the middle of the exhibition area and the hotel area, with a total construction area of 99000 square meters. It is equipped with 6000 square meters of banquet hall, 1350 square meters of international conference hall, 900 square meters of stair conference room, 35 medium-sized conference rooms and 41 reception rooms (also small conference room). Among them, the banquet hall can be divided flexibly according to the actual needs.
Ocean Paradise
Build the largest indoor marine park in China. It is about 380 meters long and more than 200 meters wide. Large span indoor space. The indoor ocean atmosphere can be created by using the equipment, and various recreational activities such as surfing and swimming can be realized. It is also a new holiday destination. A commercial area of 150000 square meters has been built, integrating high-end shopping malls, IMAX cinemas, real ice rinks and other entertainment facilities.
Two things are right
In the landscape water system and green ecological residential area, a huge music fountain is under intense and orderly construction. The diameter of the fountain is more than 90 meters, and it is said that the height of the fountain is at least 40 meters, which will be the most technologically advanced and largest fountain in Wuhan so far.
The circular water system is the vivid brush of Guobo park. Around the 700 meter circular exhibition hall, a circular water system green belt will be built. The central landscape water system is composed of more than ten poetic landscapes, such as "whirling shadow" footpath, cruise ship wharf, "waterfall" trestle, "Feixia" viaduct, sparse forest and flower path, hydrophilic platform, "water moving" oasis, "Expo golden age" fountain, etc., to meet people's hydrophilic needs.